Summer Camps
Find information about the Summer Camp offerings at the Edmonton Rowing Club.
Summer Camp Registration is Now Open!
– – – – –
Still trying to think of ways to keep the kids entertained during the two long months of summer? Well, registration for our Youth Summer Camps is now open online! 
Offered weekly over the month of July, Monday through Friday from 9am to 3pm, these camps introduce basic rowing skills for the beginner and also offer ways to improve the skills of more experienced rowers.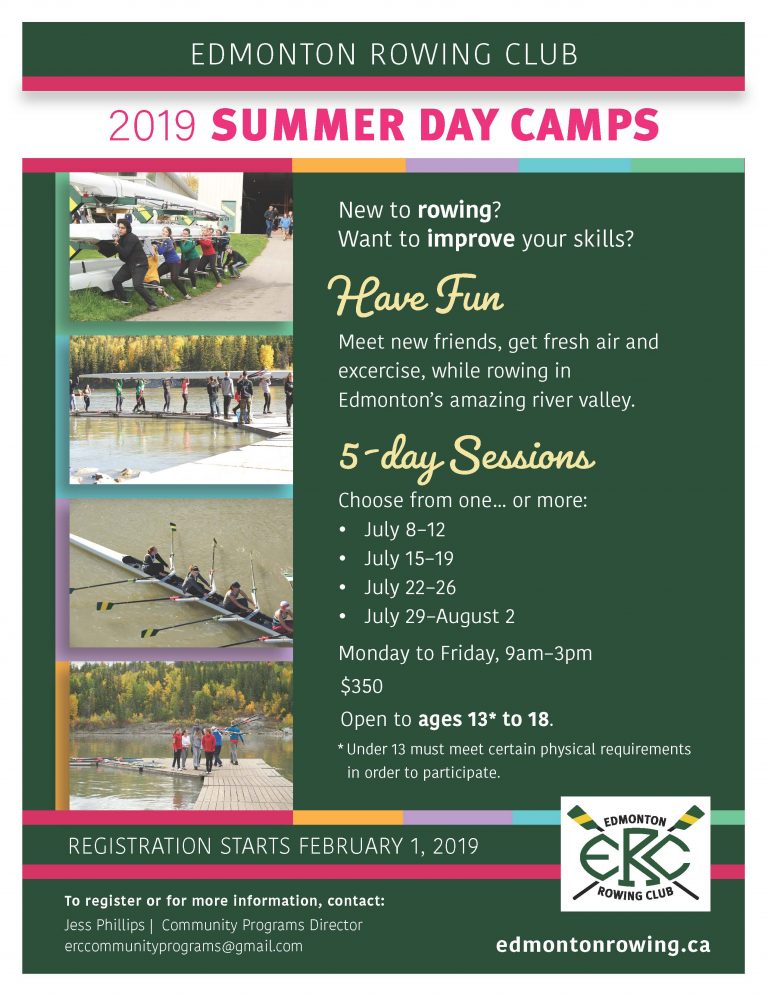 Frequently Asked Questions
I have never rowed before, is taking a Summer Camp right for me?
No prior experience is required to participate in a camp with the ERC. Our Summer Camps are extremely flexible and designed to accommodate both beginners and experienced rowers alike.
I have never rowed before, but have done canoe/kayak. Are they similar?
Paddling is very different from rowing as the sequences of motion are not the same. Having the prior experience of being in a paddle boat may be helpful. However, rowing shells are generally much narrower than a canoe or kayak and they require additional skills to balance.
How old do I have to be to partake in a Summer Camp?
Our summer camps are offered to anyone between the ages of 13 and 18. Anyone under 13 must meet certain physical requirements in order to participate. If you are under 13 and are wanting to register, please contact our Community Programs Director.
When does the Edmonton Rowing Club run Summer Camps?
Summer camps are offered weekly over the month of July, Monday through Friday from 9am to 3pm.
Where do Summer Camps take place?
The address to the Edmonton Rowing Club Indoor Training Facility is 8438 129 Street NW. Our Boathouse is about a 2 minute walk from there.
How much does a Summer Camp cost?
The ERC offers Summer Camps for $350. This fee includes your mandatory membership in the Alberta Rowing Association and Rowing Canada Aviron. If you choose to join the club after completing a summer camp, a portion of this fee will go towards your membership.
Do I need to buy my own equipment? What do I need to participate?
The Edmonton Rowing Club provides all of the rowing specific equipment that is needed. This includes but is not limited to: boats, oars, and life jackets. Personal items that you should bring include: 
Water bottle

A sock to cover your water bottle (this protects our boats from damage!) 

Hat

Sunscreen

Bugspray 

Comfy, snug clothing (dress for rain or shine!)

Running shoes 

Packed lunch & snacks
What will we be doing throughout the day?
On the first day we will spend a bit of time in our Indoor Training Facility. Throughout the rest of camp we will go out on the water 2-3 times a day. You will learn the basics of the rowing movement, terminology, commands, and safety. Any time we are on the water, you will be accompanied by a coach in a safety boat. We will take breaks throughout the day to rest, eat, and play games!
Will I be sculling or sweeping?
In sculling, a rower uses two oars, one in each hand. In sweeping, a rower has one oar. Throughout the camp participants will have the opportunity to try both techniques.
What do we do if the weather is bad?
We will go out rain or shine, be prepared for all kinds of weather! We do not go out however if safety is a concern. River and weather conditions can change quickly in Edmonton and the Edmonton Rowing Club is committed to ensuring your safety on the water. High water conditions are particularly common in June due to the spring melt. If conditions are unsafe because of flooding, electrical storms, or other conditions beyond our control, we will make use of our Indoor Training Facility.
What happens if I miss a class?
Unfortunately, the Edmonton Rowing Club is not able to give refunds for missed classes. If you must cancel your participation due to circumstances beyond your control and want to request a refund, please contact our Membership Director (ercmembership@gmail.com) by email so we can consider your particular circumstances.
I've taken a summer camp and I really enjoyed it! I'm thinking of joining the Junior Program. Now what?
The Edmonton Rowing Club Junior Program welcomes all athletes under the age of 19! If you choose to join the club after completing a summer camp, a portion of your Summer Camp fee will go towards your membership. For more information on the Edmonton Rowing Club Junior program click here. You can also contact our Juniors Coach Camil Teodorescu.
How do I register for a Summer Camp?
Click here for instructions on how to register. Make sure that the Rowing Canada account is in the name of the Summer Camp participants!
Who do I contact if I have any other questions about Summer Camps at the Edmonton Rowing Club?
Are You Ready to Join Our Summer Program?
– – – – –
For more information contact Jess Phillips.