Sport (Recreational) Rowing Program
Welcome to the Sport Rowing page. Here you can learn all about our Sport (recreational) rowing program.
A Little About the Sport (Recreational) Rowing Program
– – – – –
The Sport (Recreation) Program is aimed at individuals looking for casual rowing in the wonderful River Valley on the North Saskatchewan River. During peak months (June, July, August and September) up to 5 sessions are offered per week and you can choose to row as many or as few as you would like or as your schedule allows. Sport Program participants can attend local regattas and have the opportunity to engage in training camps and/or occasional touring around Alberta.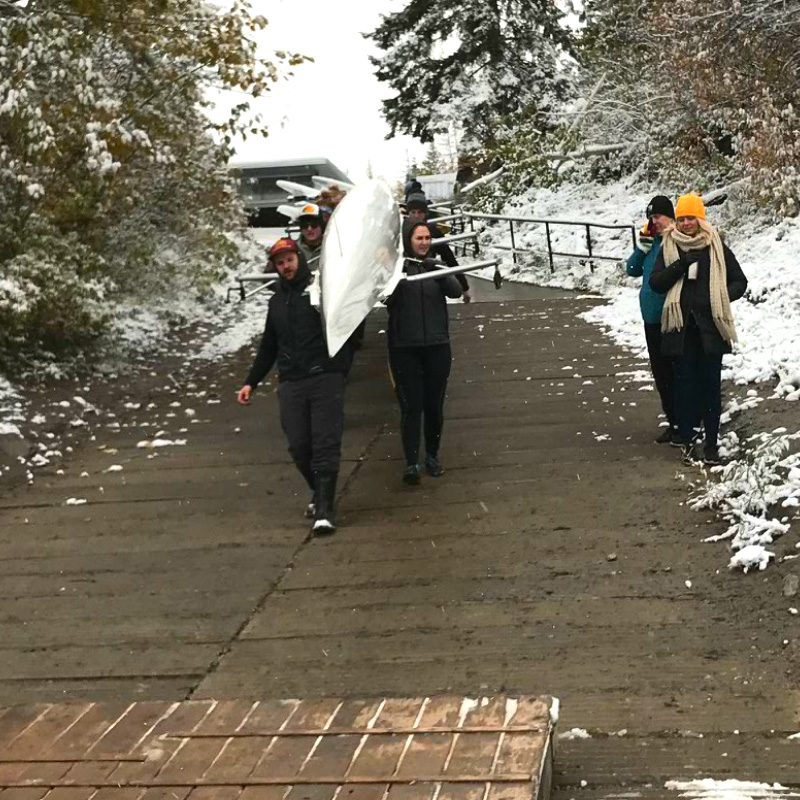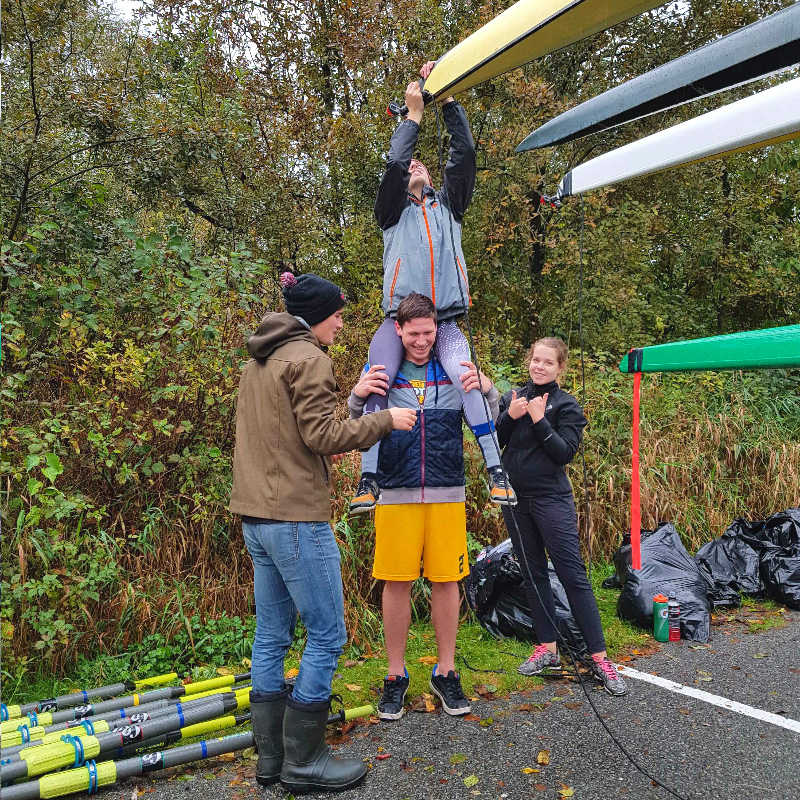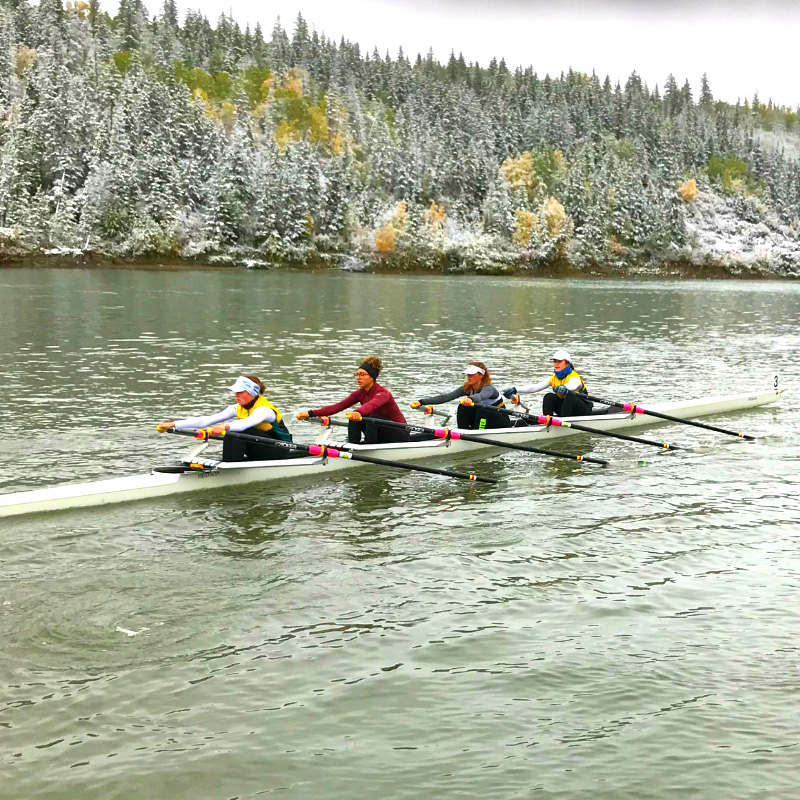 Sport Rowing on the North Saskatchewan River

Sport rowers have dedicated, coached rowing timeslots up to five (5) times per week during peak season between June 1 and September 30, and three (3) times per week during May and October (subject to water and weather conditions). A qualified coach provides coaching from a motorized boat. The schedule is as follows:
May and October: Tues & Thurs evenings @ 6:00pm, Saturday mornings @ 9:30am
June – September: Mon – Thurs evenings @ 6:00pm, Saturday mornings @ 9:30am (**Please check with Monique about the start time on Saturday's is it 9:30 or 10:30)
Sport rowing operates on a session-by-session sign up basis. You can sign up to attend days in advance or as late as a few hours before the scheduled launch time. Your coach will organize boating arrangements prior to launch. You can also drop-in, although you may not get seated in a preferred boat. Please remember it is important that you arrive on time to ensure we launch during our time. The dock is a busy place with lots of action.
Skill Development (year round)
Rowing is a developed skill and most rowers are interested in ongoing skill maintenance and improvement. The Sport coach will implement a program of progressive skill development. This program includes both on and off water activities, with opportunity to develop and improve your technique all year round. If you have just completed a learn to row program, or are returning to the sport after a long absence, we provide transitional coaching until you are ready to participate fully in the regular sport program.
Fitness Training (summer and winter)
Many rowers are attracted to the sport for fitness benefits and ongoing overall health. Rowing is a sport that can be enjoyed by an incredibly wide age range and skill levels. It is a great cardiovascular workout, and increases core and overall muscle strength. A dedicated fitness schedule is available throughout the winter months in our indoor training facility.
Training Camps and Touring

Training camps and touring are great ways to combine a love for the outdoors, rowing and social camaraderie. Training camp locations include Vermillion and past touring trips have focused on the lakes in Alberta/BC Rockies, including Maligne Lake, Slave Lake, Lake Louise, Cold Lake and other various lakes in regional Alberta. Below are some photos taken on past touring trips.
Further Information
Click here for a comprehensive overview of the sport program.
For further information on the Sport rowing program, please contact the Sport Coach.
Purchase Your Sport Membership
The following sport membership options are available for purchase on the Rowing Canada Aviron web registration system; registration opens April 1, 2021:
0418S01 – Recreational Program $590.00 (3 bingos & 20 volunteer hours required) This membership option is for individuals looking for casual rowing (up to 5x/week during peak season), occasional touring around the Alberta/BC Rockies, and both summer/winter indoor fitness training and skill development.
0418S02 – Recreational Program with Bingo Payout $890.00 (20 volunteer hours) This option is for rowers who want to join the recreational/sport program without working the bingos otherwise required of ERC members. Please be aware that revenue from bingos is a key part of the ERC's annual budget.
Click here for instruction on how to purchase membership/register for programs.
If you have any questions or inquiries, please email the Membership Director.
For a more competitive approach to rowing, consider the Competitive or Masters programs.
Are You Ready to Join the Sport Program?
– – – – –
If you are interested in joining the ERC Sport program, please contact our Sport Coach.